Now more than ever, we are all facing so many challenges, changes, and stressors due to the COVID-19 global pandemic. In response to these challenges, Wellness Coaches has evolved to provide solutions that support employers in their efforts to bring their workforce back onsite and help individual employees successfully navigate the return to work process.
EMPLOYER WELLNESS SOLUTION
Wellness Coaches has been putting qualified professionals in the workplace to help employees achieve better health and wellness for over 15 years. What they believe is simple:
• Everyone wants to be healthy and safe.
• It takes 1-on-1 personalized support to get there.
• Engaging with a coach is the best way to provide that support for sustainable change.
Their core model is face-to-face, 1-on-1 support through Health and Injury Prevention Coaching and Nutrition Counseling. They've also added solutions that include a fully customizable virtual coaching platform, claims analytics, and biometric screenings via finger sticks. And now, their services are available via Telehealth and covered at no cost under many health plans! Think of Wellness Coaches as your partner in employee health and safety, helping you effectively coordinate and drive utilization of all employer and benefits resources so your employees can become healthier and safer workers.
ADAPTING TO CHANGE WITH COVID-19
It's no surprise that the protective measures taken to minimize exposure to COVID-19 and protect our populations have impacted and changed our daily lives. These changes have affected workplaces, employees, and communities. You have most likely experienced some of these challenges for yourselves from increased fear and anxiety to new working conditions to increased responsibilities to our families.

Change is disruptive and impacts how well we take care of ourselves. Wellness Coaches can help employees develop the skills of resiliency and learn how to apply them in their everyday lives. Coaches provide a crucial resource for stress management and mental well-being. They engage employees of varying health statuses and in all stages of readiness to change – meaning they're interacting with not only the high-risk individuals, but the moderate to low-risk individuals dealing with daily stress that if not properly managed could become chronic to severe over time. Coaches also establish relationships with employees and provide the bridge to existing employer and benefits resources like EAP and Telemedicine, ensuring that employees fully utilize their resources and benefits to get the care they need when they need it.
Wellness Coaches has been able to make a significant impact for their clients in reducing health risks related to stress. Their Coaches have worked with 36,000 employees to help develop more effective coping skills for stress. Over half of the coached population has been able to reduce stress. Of those employees in the high-risk category defined as having overwhelming stress, 45% were able to adopt healthier coping strategies to move into a lower risk range. The key to success has been their focus on the skills of resiliency as the tools for healthy change. Coaches help employees practice daily mindfulness, develop emotional intelligence to more effectively manage emotions, adopt a more positive mindset in the face of change, and prioritize health habits that promote increased energy to meet the demands of work and life.
WELLNESS COACHES' SOLUTION
Wellness Coaching and Nutrition Counseling are two different but very complimentary resources that can be provided to employees, spouses, and dependents via Telehealth. At a time when groups need this the most, their services have been approved to be covered at no cost under many health plans. For the employer, offering these services under one provider ensures that they are turnkey – easily implemented, fully integrated, and customized to ensure maximum engagement and effectiveness – for both individuals and groups.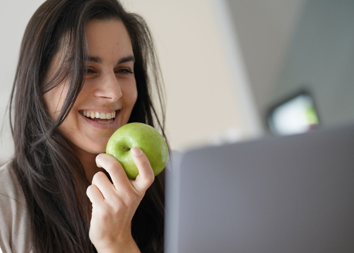 • Telehealth Wellness Coaching focuses on engaging individual employees and groups in brief, impactful moments of personally relevant change.
• Telehealth Nutrition Counseling provides access to a Registered Dietitian, giving your employees the opportunity to receive expert nutrition advice.
EMPLOYER TOOLKIT: RETURN TO WORK SUPPORT
We're all anxiously anticipating the return to work and/or reopening of the worksite. Of special interest to employers is the Employer Toolkit for Return to Work Support. Wellness Coaches is currently offering onsite temperature screenings and monitoring, provided by trained technicians and nurses. This is immediately available in most areas of the U.S. with a $250 daily minimum. They work with employers to understand their size, number of shifts, and entrance points to create a strategic plan for screenings.
Personal Protective Equipment (PPE) is available through trusted supply partners. Orders are being filled on a first come first serve basis for items like masks, gloves, and hand sanitizer. The availability of products fluctuates daily. Interested groups will be provided an updated inventory list and pricing when you contact them.
They are also able to provide FDA EUA approved COVID-19 Screenings, provided by trained technicians and nurses via finger stick. Demand is high, so don't wait to reach out.
Wellness Coaches greatest success stories all center around the same common theme – employees expressing gratitude that their employers have made these resources available to them at a time when they could have scaled back wellness initiatives. Not only did these employers put wellness at the forefront and demonstrate their commitment to employee well-being at a time when employees needed it most, but in partnership with Wellness Coaches, they also provided employers with meaningful resources that could meet their needs effectively.