Everyone is familiar with the problem. The workforce is struggling across the board with 1 in 5 Americans experiencing a mental health condition each year. More than 4 out of 5 employees experience stress on a regular basis and half miss one or more days of work due to mental and emotional health issues.
And there is a massive supply and demand imbalance with half the counties in the US having no mental healthcare providers. If you need emotional support due to stress at work, for example, and you find it affecting your performance, it takes an average of 25 days to see a clinician. This is not tied to the quality of your health plan but a matter of clinicians' availability. Furthermore, when people do seek care, it is often not effective.
Ginger has found a better way with their on demand behavioral health system. Their model has the ability to scale in an appropriate way regardless of the size of an organization with four different levels of care: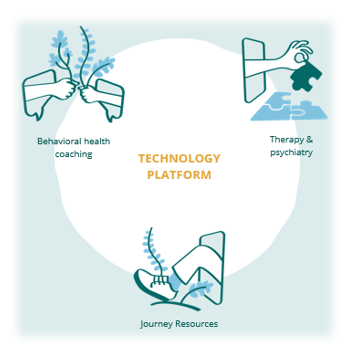 1. Technology platform: layer of care that allows members to interact with coaches 24/7
2. Behavioral health coaches: highly trained and qualified with a master's education in psychology or related field with an average of 8 years of experience
3. Therapy and psychiatry: license therapists and psychiatrists who are board certified or board eligible, delivering care via video
4. Journey Resources: activities curated by the care team of behavioral health coaches aimed to help reach your goals
THE MEMBER JOURNEY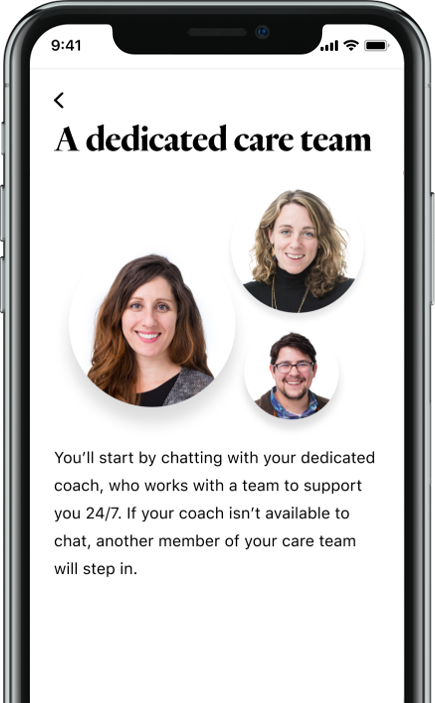 Download the Ginger app
Ginger works in partnership with you to deliver their solution. They avoid using behavioral or mental healthcare terms in their communication to make care more approachable. Instead, they use familiar terminology like "financial issues" or "stress."
Immediate access – anytime, anywhere
Within 2 minutes, the member can connect with a highly qualified professional with an understanding of their needs from the very beginning.
Behavioral health coaching
Since 70%+ of Americans prefer to have a conversation via chat than over the phone, the Ginger care team delivers their care via chat within their app. This helps remove the stigma attached to seeking mental care and drives significant activation and utilization within groups.
Clinically validated content
A manageable handful of activities are curated and suggested by coaches with relevant topics to the member. The coach will follow up to confirm the activity was completed and whether it was beneficial to the member. This helps them build skills and understanding in navigating some of life's more difficult situations.
Escalation process
If certain topics need additional attention or intervention the member is referred to a therapist or psychiatrist in under 5 days, often in less than 12 hours. Care is delivered via video within the Ginger app and care providers can share notes and information on their end to further increase the quality of ongoing care.
TECHNOLOGY
Ginger loves data and has been collecting it for over nine years. Several data points are referenced to allow them to assess and determine risk and ensure members are receiving the right care. Augmented intelligence is used to guide human coaches with their decisions.
DOES GINGER MAKE A DIFFERENCE?
Normally, 32% of the members in a mental healthcare program will have a 50% reduction of symptoms over 12 weeks. Ginger has experienced industry leading outcomes with a 70% success rate.
Members can rate each interaction. When a rating is less than 4 stars, a live person will reach out for more information to ensure members are getting their needs met and having a good experience along their journey. With an overall rating of 4.6 stars, what members value most about Ginger is the immediacy and discretion of care without having to worry about the cost.