The need for remote and digital modalities to address employee mental health has never been greater. 80% of workers with a mental health condition report that shame and stigma prevent them from seeking treatment – and over 113 million Americans live in what Kaiser characterizes as 'mental health professional shortage areas'. The result: over 56% of American adults with a mental illness do not receive treatment.
WHY TEXT THERAPY?
Text therapy can fill access and care delivery gaps commonly found within the mental health treatment ecosystem. Those who are afraid, embarrassed or unable to access traditional care might be more open to sharing their personal thoughts and concerns and receiving treatment via text from the comfort and convenience of their own home. Furthermore, unlike traditional therapy, which is typically accessed reactively, text therapy also has utility as a proactive resource. About a quarter of Textcoach™ participants use the platform to proactively build mindfulness, develop coping skills and boost resilience.
WHAT IS TEXTCOACHTM?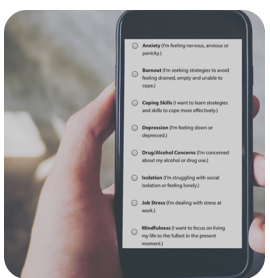 TextcoachTM is a stigma-free web and mobile platform that allows participants to conveniently connect with a licensed mental health counselor, also known as a 'Coach'. The platform helps users tackle concerns such as depression, stress and anxiety and social isolation – or proactively address focus areas like mindfulness and resiliency through an exchange of secure text messages, voicenotes, audio/video lessons and tip sheets.
Textcoach™ participants get convenient access to unlimited, message-based coaching on any device. Coaches engage with participants daily (at minimum) without the hassle of scheduling appointments and without the stigma associated with seeking traditional counseling or therapy. The application is safe, effective, secure and stigma-free.
The program is based on an asynchronous exchange of text messages and is purposefully intended to take place over a period of time, which allows each participant to share as much or as little with their Coach at their pace and on their terms. Unlike traditional therapy, participants can message their Coach whenever and wherever they'd like. Coaches can share a variety of resources that make TextcoachTM a multi-dimensional experience tailored to each individual user.
Referring to TextchoachTM clinicians as Coaches further helps to reduce the stigma associated with mental health therapy. However, they still provide the highest level of clinical care and support. A Coach's profile is made up of the following:
• Masters or Doctorate in mental health discipline
• Current professional license(s) to practice independently
• Average of 11 years post-graduate experience
• BC-TMH (Board Certified Telemental Health Provider) Accredited
In addition, Coaches use evidence-based tools like the SPS-6 and WOS to optimize the care plan for each participant and to measure the impact of coaching on user wellbeing and productivity. Not only are the coaches experienced, credentialed and armed with evidence-based tools, they're passionate and dedicated to making a difference in the lives of others and are excited to be using this platform to reach more people in need.
TextcoachTM is intended to treat low to moderate severity concerns, like stress, relationship issues, grief, and early-stage depression or anxiety – and also to proactively help users with focus areas like mindfulness and resilience. It is not intended for high-acuity or emergency-based concerns, but because TextcoachTM is seamlessly integrated with a client's other programs, Coaches can ensure that people with urgent concerns are guided to the proper level of care or modality within their EAP or benefit plan.
Getting started is super fast and simple. A member can create their profile and choose their focus areas in just a few minutes and can immediately begin dialogue with their Coach.
TextcoachTM is reframing the importance of offering a variety of modalities that are meaningful to everyone. The platform appeals to a percentage of every population who won't raise their hand for help – or who feel that traditional counseling isn't for them by offering a convenient and safe way to work with a licensed and experienced counselor with no appointments, no wait times, no judgment and no stigma.